Hello everyone! This blog was meant to be posted on Saturday, but I got fever and was NOT in the mood writing about anything! But since today I'm feeling much better I'm going to do this NOW - share the experience of my first-ever outing to "our" (meaning Ukrainian/Russian) singer's concert ;) Some of you might ask why "first-ever"? Simply because I do NOT listen to "our music", except for 2 or 3 singers, because, to be honest, our show-biz is filled with so called "artists" and only a few of them are "artistic" and deserve to be called so! So my list of "real talents" expanded from 3 to 4! And this time it was a talented singer, Elka (Ёлка) (pronounced [Yolka] and actually translated as a "fir-tree") :)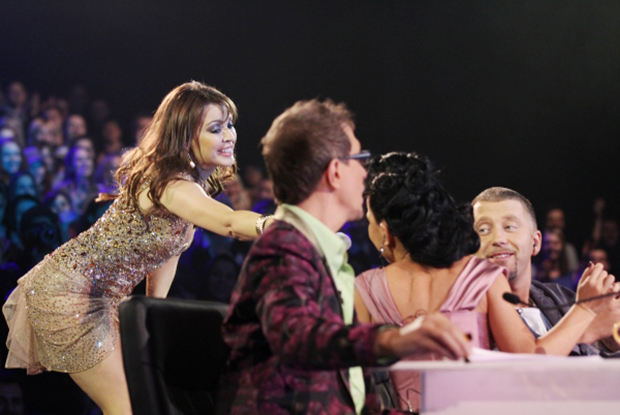 To tell the truth, I had no idea who Elka was before our lovely Kylie Minogue came to perform at the xFactor Ukraine at the end of October last year, where Elka was one of the judges. Our "Kylie Minogue Support Team" somehow managed to get invitations (only God knows the whole story! <:D ). From that time on we all started watching xFactor and that's where I heard Elka's hit song "Provans" (although performed by others at the xFactor on her B'Day :))
Anyway, as I realized later, I did hear Elka's song before and it was her debut song called "Sin City" ("Город Греха"), but to be honest I did not recognize her whilst "googling" her works/videos of that period. (Elka, you look soooo much better now!) She's so much funnier and happier as a person AND as a performer, songs are bright and filled with love and emotion. This lady breaks the borders of being called "pop star", showing how it's done! And that's the beauty of seeing it live, because that's when you witness the "real" artist!
Elka kind of reminded me of Kylie's tour arrangements - in particular her hit song "Can't get you out of my head" at Aphrodite Les Folies last year, performed in a "rock" mood - and that's when I pay attention to the musicians (my dad is a guitar player and I know exactly when they enjoy something the most). Same happened at Elka's concert, especially during the song "Lava" - oh my did her team enjoy playing that one *eyes closed, mouths open*!! :D
Also, Elka appears to be a very genuine and nice person, paying attention to the crowd, and actually chatting and telling stories before each and every song, making jokes and being funny, just making the spectators fall in love with her and really enjoy the atmosphere of the show.
One thing I know for sure - if Elka comes back to perform in Kiev and I'm able to go - I'll be there! ;)
Thank you Elka for one amazingly stunning concert!
Enjoy the videos ;) (P.S. They are actually much better quality, but because of the Blogger requirements I had to convert them to make them 5 times smaller... so I'm sorry about that <:) )
The opening of the show - Elka performs her hit song "Provans"/"Прованс":
"Quit"/ "Бросай" - is one of my favorite ones on the album:
"Driving by the rules"/"Ездить По Правилам" (not my favorite, but Elka's fans did an amazing job "making the show"! :) ):
After finishing her last song "Big Hot Air Baloon"/"На большом Воздушном Шаре" (while flying planes were shooting out of the machine and hitting people's eyes - yes, mine!), Elka said Goodbyes and Thank you and ran off the stage, while her team were leaving their places as well - that's when the whole building would not let her go unless she sang one more song. She made excuses saying she had a "massage appointment" and they were going to be late to "catch the train", but of course it was only for fun, because she was planning to go back on stage one more time and treated us with "Provans" again, only this time it was performed by US! ;)
Thank you for coming and you were amazing!
xo K