July 28th, 2012
is the exact date when All The Lovers around the world along with their Princess are celebrating 25 (
TWENTY FIVE
!) years of Kylie Minogue in music industry!!
Exactly on
July 28th, 1987
her first ever single (the cover version of the 1962 Little Eva hit) Locomotion was released in Australia, lighting up a new star in music, only then nobody had the tiniest idea about how big this little star is going to become! There are not too many artists that have the longevity of Kylie Minogue, so what's her secret, you would ask - even Kylie herself doesn't know for sure!
So this is where it began:
In 1986 Kylie won the part of Charlene, a schoolgirl turned garage mechanic, in Neighbours. The show became a tremendous hit, and viewers tuned in daily to follow the travails of the families on Ramsay Street. Ratings of the show zoomed up when Kylie and Jason Donovan, became romantically linked in both real life and on the show. Australia went crazy for the couple!
"It was total madness,"
Kylie remembers those times few years later in Telegraph interview.
"We'd go places and there'd be such enormous crowds we couldn't get in. Then we couldn't get out."
The interesting thing is that Kylie had never actually planned to launch a music career at the time. In 1994 she told Interview magazine:
"I basically wanted a job. I didn't have that hunger for success then. But I must admit, after the cast of Neighbours did this little musical performance thing, and someone said, 'Oh, that was great. You should make a record, ' I did have stars in my eyes."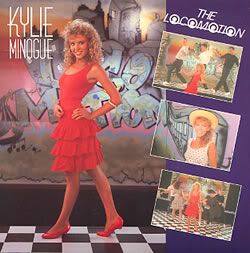 After an impromptu performance of the song at an Australian football charity event with the cast of Neighbours, Kylie signed a record deal with
Mushroom Records
to release
"Locomotion"
as a single. The song was a huge success in Australia, reaching
No.1
and remaining there for
SEVEN weeks
. The success of the song in her home country resulted in her signing a record deal with
PWL Records
in London and to working with the "hit-machine" Stock Aitken & Waterman. In 1988, re-recorded version (
"The Loco-Motion"
) produced by them was released worldwide. This release again was a major success, reaching No.2 in United Kingdom, No.3 in the United States, and No.1 in Canada (also reaching the top spot in: Belgium, Finland, Ireland, Israel, Japan, Peru and South Africa and Top 5 in other countries)
In 1987 it was the
No.1
song in the
End-of-Year
chart
in Australia
(200,000 copies, received the ARIA Award for the year's highest-selling single; United Kingdom: 440,000 copies, 11th best selling single of the year) and later the
No.1
song in
Australian End-of-Decade
chart .
Here you can watch
both versions
of Kylie's "Loco(-)Motion" and compare:
(right - the original, 1987; left - edited Worldwide, 1988)
One of the first performances of Locomotion in 1987 on Australian TV show "Young Talent Time" and 1988 performance at the Palladium
"How long will it last? Who knows! There's tons of things I wanna do!"
(Kylie, 1988)
Rumors, rumors, rumors --> Kylie can answer for herself! (talks all things Australia, Neighbours, music, future, #KylieCafe ;) and life in general:
Kylie
JULY #K25 surprise
will show you Locomotion through the years and the last little bit will leave you intrigued for what's yet to come -
The Abbey Road Album release
:
And this is what we've got 25 years later!
*post will continue* ;)
So, Kylie,
HAPPY #K25
!!! :) And thank you for twenty five years making amazing music, inspiring millions of people, being brave and thirsty for life, giving people hope and making them believe in a better future!!
WE LOVE YOU!!!
xo K